Get the facts on solar.
Want to support green energy? Interested in reducing your carbon footprint? Think you will save on your energy costs? These are the primary drivers leading many homeowners to explore rooftop solar. However, as attractive and popular as rooftop solar may appear, it is important for our OREMC consumer-members to fully understand its true costs, how it really works and what their energy savings might be.
Consider these before proceeding with solar:
You'll need to complete an interconnection application with OREMC first
You must notify OREMC of your intent to install a distributed generation system by initiating an interconnection application (dated 110120) and submit a detailed one-line diagram. This is to protect your fellow cooperative consumer-members and to ensure lineworkers and other OREMC employees are not put in harm's way. There are a number of safeguards that must be put into place with member-owned generation systems.
You are liable and responsible for your new solar panels
It will be your name on the Interconnection Application and Agreement, not your solar contractor's. Make sure you have read and understand how it works and what it means. Do not leave it to your contractor to "handle it."
You will still receive an OREMC bill
Your rooftop solar system will only produce energy when the sun is shining. Cloudy days can result in a 60-70 percent reduction in energy production, and all the way to zero production on rainy days. The electric grid does not act as battery storage for any excess generation your system produces. Therefore, OREMC is your backup power supplier at night or when your system's energy production does not meet your demand for electricity. Don't be fooled by promises from your solar contractor that you will no longer receive a power bill.
OREMC will buy any excess power
Yes, OREMC will purchase any excess power your system generates that you don't use. However, it is not a one-for-one offset. OREMC will purchase excess power at current wholesale power rates — 3 cents per kWh as documented in your Interconnection Agreement — not current retail rates.
---
OREMC's energy advisors are here to help.
Call before you install!
800-262-5131
---
Making Sense of Solar
What are your solar goals?
Whether you have been thinking about going solar, or were recently contacted by a solar contractor, there are several things you should consider before signing a contract. Most importantly, what are your goals for solar? Review our list of questions, then call our OREMC energy advisors to understand your specific usage and the system size that is right for you. Watch this video to answer your key solar questions:
---
---
Straight Talk with Dewayne Johns
Member Service Representative clears up solar misconceptions
OREMC is here to help you make the best solar decision for you. Many solar contractors have an aggressive sales pitch promising savings and paybacks that often are not true. Check out our conversation with OREMC Member Service Representative Dewayne Johns regarding solar misconceptions and frequently asked questions that all too often happen after a solar installation instead of before. Check out the infographic below for more questions and answers!
Solar Fact vs. Fiction Listen to the Podcast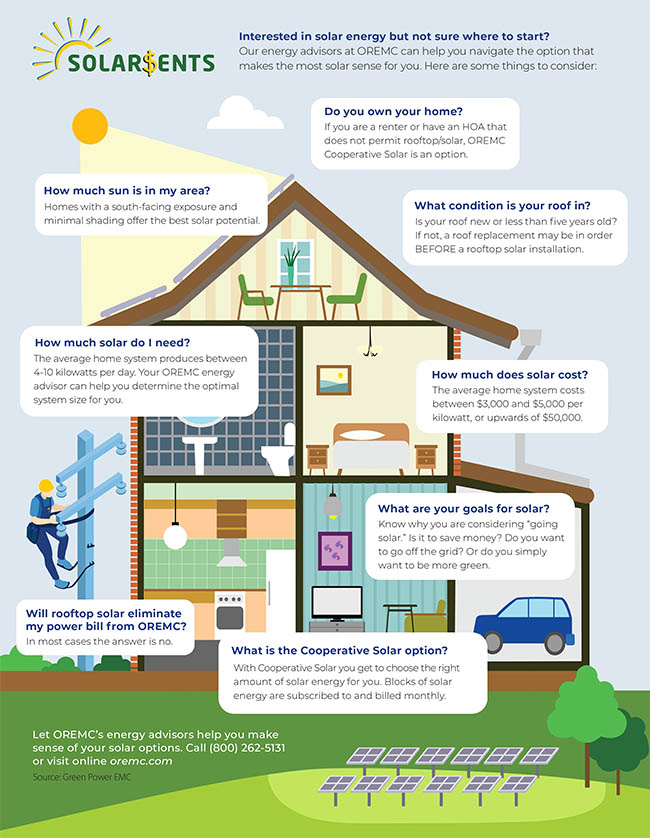 ---
Making the Connection
Considering solar? Ask us first!
Once you know more about what to expect from solar, and have decided it is right from you, you'll need to download and print the OREMC Interconnection Application. You will then submit the completed application, along with a detailed one-line drawing and a $200 application fee, to OREMC. Our energy advisor will work with you and your solar contractor to make sure your proposed system meets all requirements.
Download Info Packet and Application
---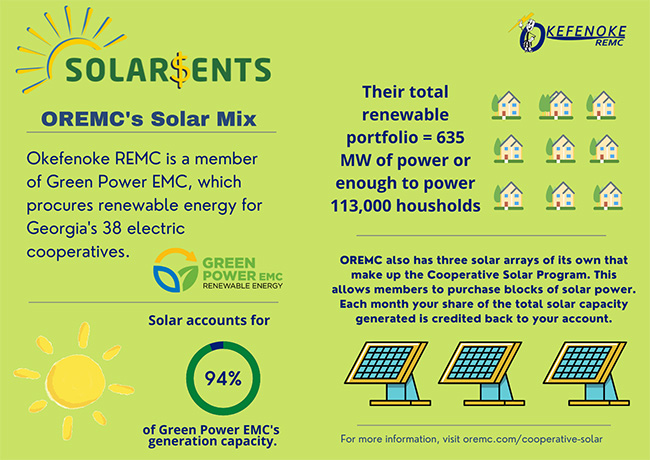 Cooperative Solar Program Cooperative Solar vs. Rooftop Solar
Call Before You Install!
Pick up the phone or use our solar inquiry form
We've given you a lot to digest as you make sense of your solar options. We realize you may have more questions than we have addressed here or are specific to your lifestyle and energy usage – our energy advisors are happy to help. Simply call 800-262-5131 or complete our solar inquiry form and we'll get back to you!