Reeds Grocery & Ponderosa
February 17th, 2021
It is the middle of everything or in the middle of nowhere, depending on your perspective, but unquestionably at the heart of it all. The "it" is Reeds Grocery & Ponderosa situated in the Tarboro Triangle where State Route 252 Burnt Fort Road, New Post Road and State Route 259 intersect in Georgia. From the outside the unassuming white block building doesn't reveal much about its rich history. Step across the threshold, however, and you realize the past is very much present.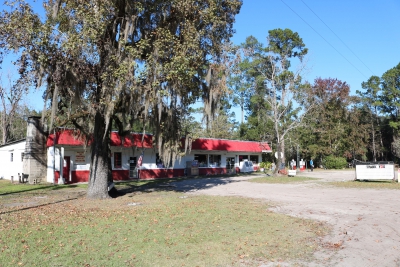 Grocery essentials, plumbing and hardware are comfortably comingled with antique collectibles, family photos and memorabilia. It is a place where you can still get fresh cuts of meat on one side of the store and saunter up to the lunch counter for a fried bologna sandwich on the other side. For siblings Greg, Deborah and Barry Reed (along with Donald and Vincent) this is home. Together they carry on the legacy of Reeds Grocery & Ponderosa that was their father Leroy Reed's dream.
On this day, Greg Reed takes us back to the beginning of one of Okefenoke REMC's longest standing business consumer-members. His father opened the original store in 1948 after returning home from WWII and wanted to be his own boss. He began selling eggs and later added ice from the Woodbine Icehouse. The family—all seven of them, plus other family members from time-to-time—lived in the two rooms in the back of the store.
As business increased, groceries, beer, wine and feed were added. A counter served as the divider between the family living area and the store. Over time, the store doubled as an entertainment area with a pot belly stove simmering a pot of boiled peanuts, a juke box playing 45 records, a pool table, card playing and food.
"Mom (Peggie) did hair in the back of the store for the women in the black community, and Deborah helped her make the big homemade hamburgers we sold to the weekend crowd," Greg recalls. "A lot of people also came to the store for advice from our mother, and the bench under the two trees (still standing) in front of the store became a gathering place."
Reeds quickly became the hub of the predominately black community.
Greg explains most of the folks, including their father at one time, worked in forestry—pulpwood being the main source of income. When times were lean Leroy planted trees, hauled turpentine to market for processing, drove the school bus (Peggie also drove the county school bus, retiring after 20 years) and working nights at the restaurant in Woodbine. He also hunted, fished, raised chicken and hogs and as time went on, planted fields of corn, beans, peas, watermelons, greens and other vegetables, along with sugar cane from which they made syrup. He also worked at Thiokol, but due to a family funeral was not at the plant when it exploded. Otherwise, this would have been a very different story.
Leroy was a community leader and Reeds Grocery became the place to go to find out what was happening in the community. He was the first black member of the Camden County School Board and served for over 10 years. He cashed checks, collected church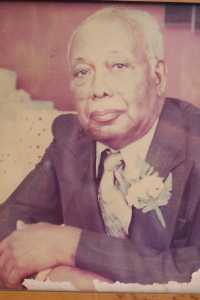 dues and ran a weekly charge club. And the store was one of the first places to have a phone where the kids who had gone off, would call home to speak to their parents. From this evolved the social hall—Club Ponderosa—that was built in 1963 as part of the current building that stands today.
With the new, expanded store came greater expectations. As Greg and Deborah describe it, they along with their siblings, were the work force, and politeness and professionalism were the words of the day. Greg recalls, "We didn't lean on the counter, didn't wear short pants and the money was always expected to come out right. We said 'hello' and 'thank you' to everyone. It was all about a genuine experience, making people feel warm and welcome so they come back and tell others."
Then and now, Reeds can take care of most customers' needs. In addition to groceries, Debora attests, "We've got seeds. Need to feed your chickens, dog or hog, we have food for them. Need a nice, thick pork chop, we cut to order. Got a leak? We have glue, pipe and fittings. Need a cold beer or a little something stronger, we can handle that too."
While impromptu dancing and parties took place at the original store, the bigger building formally brought about Club Ponderosa with dances every Saturday night. Folks came from miles around—Brunswick, Folkston, Jacksonville, Waycross—because as Barry plainly states, "There weren't many places for black folks to go." And as Deborah shares, you couldn't leave without having one of Leroy's famous fried chicken sandwiches with hot sauce to wake you up! While times may have changed, Club Ponderosa still remains a happening place on Saturday nights after 50+ years.
Adding to the bonanza of activity surrounding the store and Club Ponderosa, Leroy built two baseball fields on his seven acres in the Tarboro Triangle, and the softball and baseball tournaments were legendary. So were the 4th of July community cookouts that lasted well into the night, and the annual Labor Day fish fry.
"Our father had a dream," Greg says. "He never had a day off in his life, but his work . . .the store . . .because he did what he loved to do."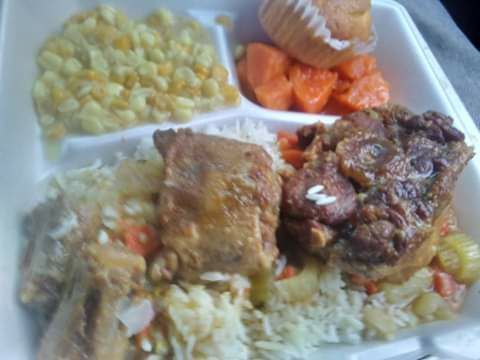 Leroy's legacy lives on through his children. In 2003 they started a new tradition with the addition of Thursday Night Dinners. A collection of classic, southern, comfort foods, the dinners were being hosted and served in the dining area of the store, but during COVID they have become to-go. You must call ahead (912-576-5348) to reserve yours. The options generally include, oxtails, fried chicken or pork chop, rice and gravy, bread and vegetables.
So it goes at Reeds Grocery & Ponderosa . . . a gathering place for family and community. And if you were wondering where the name came from, a picture hanging on the back wall above the family photos leaves little doubt—Leroy was a big fan of Bonanza, and love of family.
View the Reeds Grocery & Ponderosa video.