OREMC Welcomes Three New Lineman
May 16th, 2023
Okefenoke REMC is pleased to welcome three new linemen: Zane Edgy is working out of OREMC's Kingsland office, and Kyle Byrne and Aaron Harris are working out of the Hillard office.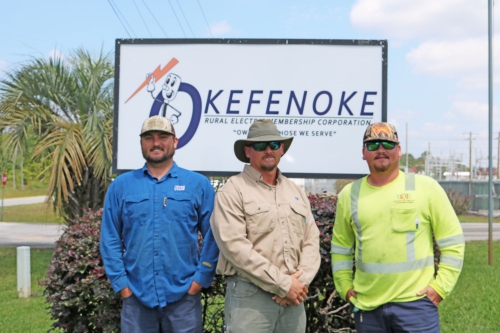 Zane Edgy, from Waverly, joins OREMC after working for three years with Sumter Utilities. He says being a lineman, and working for OREMC, is something he always wanted to do. "I was first inspired to be a lineman after seeing a REA crew working in my Pop's backyard," Edgy notes. He took the first steps toward that goal by completing the Lineworker Certification program at Coastal Pines Technical College, before landing his job with Sumter. Now his dream is realized as he says, "I've come home and get to do what I love, where I love to be." Edgy resides in Waverly and recently got married.
New to the area, Kyle Byrne had been looking for a job opportunity locally, given his wife was born and raised in the Jacksonville area and he has two stepchildren growing up here. Byrne comes to OREMC after working in Chattanooga, Tennessee, at the Tennessee Valley Authority for nearly five years as a transmission lineman. He says what he enjoys most about being a lineman is, "working outside on critical infrastructure. It is personally gratifying, but I also really enjoy working as part of a bigger team." The job at OREMC allows him to be present in raising his kids, but also be fairly close to his extended family in Chattanooga.
Aaron Harris, from Hoboken, has officially become part of OREMC after working on a crew for PIKE Electric assigned to OREMC's Hilliard office for the past four and a half years. He is a graduate of Brantley County High School and spent a year at Georgia State College before deciding to complete the Lineworker Certification program at Coastal Pines Technical College. He has always felt that being a lineman was a good career choice with growth opportunities, but says, "Working for the co-op specifically means you are working with and for people you know. It makes the work that much more fulfilling. Harris is married and has two children: a son who is a year and a half old, and a three-month-old daughter.
When they are not working, all three agree they enjoy the outdoors whether it is fishing, hunting, boating, or for some, even cycling and riding motorcycles.
Pictured left to right are Aaron Harris, Kyle Byrne and Zane Edgy.