Promoting Childhood Literacy with Ferst Readers
May 5th, 2023
Promoting childhood literacy across the Okefenoke REMC service area is the motivation behind OREMC's $8,000 donation to Ferst Readers supporting chapters in Brantley, Camden, Charlton and Glynn counties in Georgia, and Baker and Nassau counties in Florida.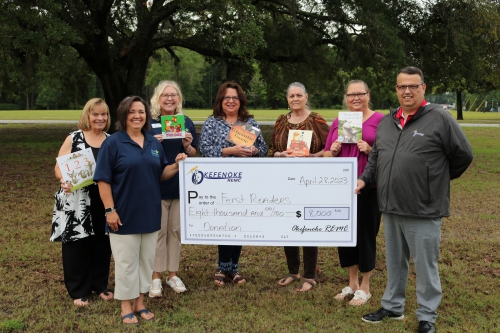 OREMC Manager of Member Services Dewayne Johns notes OREMC has been supporting Ferst Readers since Program Manager Michelle Maddox first worked to establish chapters locally over five years ago, "Ferst Readers is a program our general manager and board of directors is passionate about because promoting education is one of our founding principles, which in turn leads to workforce development, community and economic growth." Unclaimed capital credits fund donations such as this, enabling OREMC to reinvest in its communities by supporting qualified organizations.
As Maddox explains, "Our goal is to get parents to read to their children by providing a developmentally appropriate book each month from birth to age five. Among low-income families, 61 percent do not have age- appropriate books for children. Ferst Readers works to close that gap by fostering a language-rich environment and promoting kindergarten readiness."
The program is free to families living in participating communities, and every child under the age of five can be registered. Each month they will receive a new book, along with a parent newsletter that outlines activities, vocabulary and key outcomes related to the book. The additional materials help kids better connect their learning with what is being taught at school. Since the program's founding in 1999, children who were Ferst Readers have demonstrated higher kindergarten readiness assessment scores and higher post-test gains among first graders. While there is no cost to families registered with Ferst Readers, the cost to fund the program per child is $36 a year.
Helping to strengthen its partnership with Ferst Readers, OREMC has also introduced OREMC Storytime. Each week a video is released on the co-op's Facebook, Instagram and YouTube featuring OREMC employees, friends or Ferst Reader chapter coordinators reading a children's book aloud. The complete OREMC Storytime library can be viewed on Okefenoke REMC's YouTube channel or at https://bit.ly/42ntOdm.
For more information about Ferst Readers visit online at www.ferstreaders.org or contact Program Manager Michelle Maddox at 904-248-0165. You can also listen/watch OREMC's interview with Maddox about Ferst Readers on the Plugged In podcast at https://youtu.be/S6adLqMI3z0.