Wings & Watts: "Get to Know Your Co-op" Event Scheduled in Hilliard
April 5th, 2023
You flip the switch and the lights come on. For most people, electricity and their power provider, are fleeting thoughts. But as a not-for-profit, consumer owned electric membership cooperative, Okefenoke REMC wants to better connect with its consumer-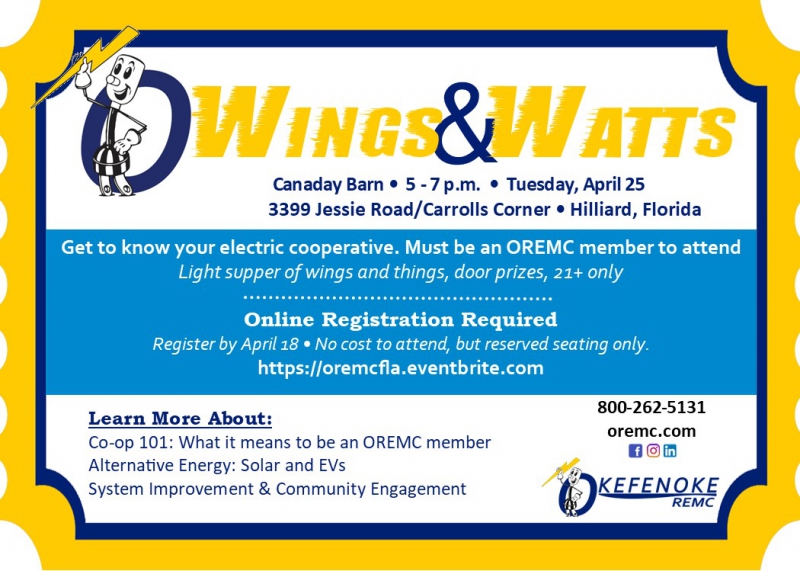 members about its commitment to powering their lives, as well as supporting community, educational and economic development.
Wings & Watts: Get to Know Your Co-op will be held on Tuesday, April 25 at Canaday Barn, 3399 Jessie Road/Carrolls Corner in Hilliard, Florida There is no cost to attend, but you must be an OREMC member, age 21+, and advance registration is required for planning and space requirements. Registration is online at https://oremcfla.eventbrite.com.
"We held our first Wings & Watts event last November in Camden County and it was a 'sold out' event," explains OREMC Communications/Marketing Coordinator Michele Hutchins, CCC. "Meeting our members where they are, addressing key issues and providing a framework for what it means to be a consumer-member of OREMC is the purpose behind our Wings & Watts event. Many of our members are not familiar with electric membership cooperatives and our history of by the community, for the community. While we hold an annual meeting every year in September, the day/time isn't always convenient, so we wanted to offer a more informal type of outreach event to engage with our members."
The evening will include a light supper of wings and things, a door prize for each attendee and brief presentations by OREMC leadership: Co-op 101, Alternative Energy: Solar & EVs, and System Improvements & Community Engagement. In-between, consumer-members can mingle and chat with OREMC managers and board directors.