OREMC Presents Camden County High School With GHSA Cooperative Spirit Sportsmanship Award
February 2nd, 2023
Helping to shape future citizens of the community is something close to the heart of each electric membership cooperative (EMC) throughout the state. When engaged in athletic competition, high school students have one goal in mind: victory. But beyond wins and losses, one of the greatest lessons learned from competing in high school athletics is the ability to compete with class and sportsmanship. That is why Okefenoke REMC is proud to announce Camden County High School as a winner of a 2021-2022 Georgia High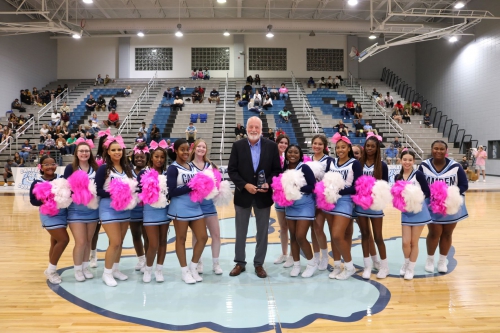 School Association (GHSA) Cooperative Spirit Sportsmanship Award.
"Okefenoke REMC advocates for educating the whole student—academically, physically, socially, spiritually and emotionally—to promote future servant leaders," notes OREMC Member Service Representative Dewayne Johns. "The Cooperative Spirit Sportsmanship Award recognizes schools and communities that work together toward those same goals. This isn't just an athletic award, but one that celebrates cooperative efforts between schools and communities in supporting education. We applaud Camden County High School's tenacity and commitment to it students and the greater Camden County community's support in fostering our collective future."
Camden County High Schools Athletic Director Welton Coffey was thrilled to accept the award on the school's behalf saying, "Any time you are honored in the area of character and integrity it is extremely important because that is what high school athletics are all about. We are humbled to receive this award for our students, coaches, administration, school system and our community."
OREMC, along with other EMCs in Georgia, have presented the Cooperative Spirit Sportsmanship Award to GHSA-member high schools in 56 regions and seven classifications each year since 2006 to emphasize, encourage and reward positive behavior in athletics. To be considered for recognition, students, athletes, coaches, spectators and anyone else associated with high school activities programs must display respect, fairness, honesty and responsibility before, during and after competition.
"Congratulations to all of the region winners of the GHSA Cooperative Spirit Sportsmanship Award for 2021-2022," says Dr. Robin Hines, GHSA executive director. "It is an honor for these member schools to be selected by their regions for this award. The characteristics of good sportsmanship are critical to the development of our young people as they transition into productive adults. The GHSA applauds our schools on this accomplishment and appreciates Georgia's EMCs for their support of this outstanding recognition program."
Camden County High School, along with the other GHSA-member schools honored with this award, saw their representatives demonstrate a high-level of honorable behavior across all sports throughout the school year and among many different groups, ranging from students, coaches, parents, spectators and officials. With the award serving as a compliment to anyone involved with the school's athletic events, this is an award not just for the school, but for the entire community.
Founded in 1904, the GHSA is a voluntary, non-profit organization comprised of more than 460 public and private high schools that strives to promote good sportsmanship, participant safety, fair play and a cooperative spirit among its member schools. The GHSA administers regulations for region and state competition in 21 sports and three activities. For more information, visit www.ghsa.net.
OREMC Member and Community Representative Royce Proctor was pleased to present Camden County High School a 2021-2022 GHSA Cooperative Spirit Sportsmanship Award. Accepting the award on the school's behalf were the Camden County Wildcat Cheerleaders.