OREMC Storytime Shares the Magic of Books
January 24th, 2023
Get ready. Get set. Read! Okefenoke REMC is pleased to announce the launch of its virtual OREMC Storytime, in partnership with Ferst Readers, beginning Sunday, January 22. Each Sunday at 1 p.m., a new story will be posted on OREMC's Facebook page and YouTube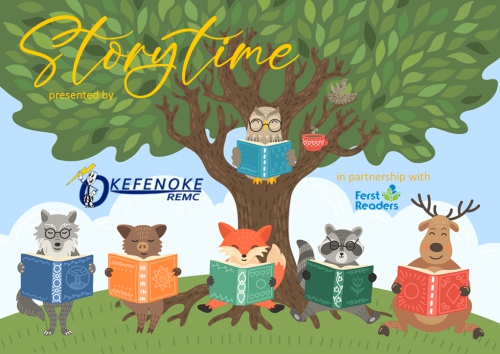 channel. Books will be read by OREMC employees, board directors/trustees and/or community members targeting the co-op's littlest members. Our first book is George and the Big Red Fish.
"It was an idea born during the COVID lockdowns when very few were going very far," explains OREMC Communications/Marketing Coordinator Michele Hutchins. "With schools closed, and many parents working at home, the idea of a children's storytime flickered as a way to share the magic of books virtually, given kids couldn't gather for storytime in their classrooms. But like everyone else, most of our administrative staff was working remotely and our line crews were staggered and only onsite briefly to gather materials and work out in the field."
It wasn't until employees returned to more normal schedules that planning and logistics began to fall into place. OREMC was already a major supporter of early childhood literacy through its partnership with Ferst Readers, where families can sign up their child to receive an age-appropriate book a month from birth to five years old, at no cost to them.
"Ferst Readers is a program our General Manager John Middleton heard about and thought fit very well with our founding principles of supporting and promoting education in our communities," explains OREMC Members Services Manager Dewayne Johns. "Working with Michelle Maddox at Ferst Readers, the co-op has been instrumental in helping to launch several Ferst Readers chapters in its service area including in Baker and Nassau counties in Florida, and Brantley, Charlton, and Glynn counties in Georgia."
To strengthen the partnership and further promote early childhood literacy, OREMC Storytime has been launched. Some of the books being read were provided by Ferst Readers, while others have been chosen by the readers themselves. "Many of our employees have young children and have selected current favorites to read, while others have chosen some classic favorites to share," Hutchins explains. "One employee's grandmother wrote a couple of books, and she is reading those, and one of our lineman is a native Spanish speaker and he will be reading in Spanish. So, there will be a wide variety of stories over the next six months."
For more information about Ferst Readers and OREMC's partnership, listen to our Plugged In podcast on Amazon, Apple, Google, Spotify or online at https://radiopublic.com/plugged-in-Wa1LqD/s1!085a5. You can also visit https://ferstreaders.org/.