OREMC Schools Teachers on Job Skills, Training and Career Opportunities
November 10th, 2022
Four Glynn County teachers stepped out of the classroom and into the middle of Okefenoke REMC's operations for two days in early November. They were four of 20 teachers selected to participate in the Connect Glynn 2022 Education Externship Academy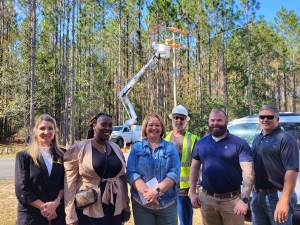 hosted by four local businesses, OREMC being one of them.
Karlynn Barnes, Golden Isles College & Career Academy, Yolanda Ketchup, Burroughs-Molette Elementary, Michelle Parnell, Sterling Elementary, and Jimmie Walker, Needwood Middle School, quickly learned there was much more to electricity than a flip of a switch. They began their day with an overview of OREMC history, electric membership cooperatives and the cooperative form of business. Following that they met with the management team and human resources to better understand roles, cooperative culture, OREMC policies, procedures, training and educational requirements for various positions.
From there they got a bit more up close and personal look at the people behind the power at OREMC and learned about employees' individual jobs and journeys. Included were warehouse operations, fleet mechanic and dispatch to billing, staking, member services and engineering. They learned that there were many different paths to jobs at OREMC, as some employees started as high school students, others advanced through on-the-job training and some required college degrees.
The teachers also traveled to a job site where a line crew was building a new service location. Foreman Scott Studstill explained the role of each lineman, the use of their protective equipment and tools, and verified when Michelle Parnell asked—and much to the teachers' surprise— that the line into which they were connecting the new service was indeed "hot"—meaning power was continuing to flow while the lineman worked.
Rounding out day one was a preview of the 3.5 miles of line OREMC rebuilt in 2019 to serve Cumberland Island, and a power switching operation in the dispatch/communications center. This demonstrated the process and communications between dispatchers and the linemen in the substations routing/rerouting power across the OREMC system. It also highlighted the IT connectivity of OREMC's distribution
system through Supervisory Control and Date Acquisition or SCADA. For Jimmie Walker this was a real-life application of system integrations that he teaches his middle school students.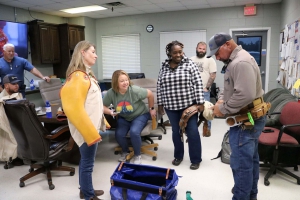 Day two began bright and early meeting with the crew at the Kingsland district office. Chatting with the lineman the teachers got a chance to try on some of the protective gear, including rubber gloves, sleeves. climbing and tool belts. They quickly gained a new respect for how hot and heavy the equipment can be working under the southern Georgia sun, but that regardless of conditions safety first is the priority. Then they were given a pole climbing and pole-top rescue demonstration.
Immersion into OREMC's system maintenance and restoration response continued with a boat ride out to the 3.5 miles of line running from the mainland under two rivers and across the marsh to serve consumer-members living on Cumberland and Little Cumberland islands. There were questions abound regarding the 45 poles, how they were outfitted, how
long it took to build and who climbed which poles. The fact that Cumberland Island didn't get electric service until the 1960s was eye-opening in itself.
Docking at Plum Orchard, conversation between the linemen and teachers continued before wrapping up their day back at OREMC's newest substation—Kinlaw substation built to serve Plug Power— and an engineering overview by Manager Darren Crews.
After two very busy days, all four teachers agreed on several key points:
OREMC employees feel blessed to work for the co-op and take pride in their work.
OREMC offers career opportunities for people with many different talents.
Everyday basic skills matter and communication is key.
Not everyone needs to pursue a college track—technical skills and trades are as important.
There is much more going on to ensure delivery of power to homes and businesses than just flipping a switch.