Two Organizations in Camden County Awarded OREMC Foundation Grants
August 19th, 2022
The Okefenoke REMC Foundation recently awarded eight grants to qualifying organization totally, $30,300, including two organizations in Camden County: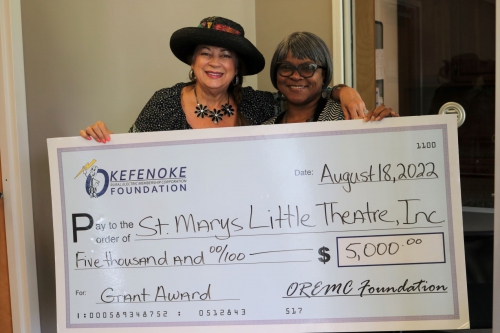 Making A Difference Mentoring, $5,000. The funds will be used to support their mission of mentoring young men ages 7-17 in Camden, Glynn and Charlton counties by providing a positive male influence and giving them the tools and support system to become productive citizens. Accepting the award presented by OREMC Foundation Trustee Sonya Walker were Desmond Rhodes, mentor, and Director Timothy Bessent Sr. (pictured center). Bessent said, "Our goal is to lift up and give back to the community. The OREMC Foundation grant is a resource that will enable us to continue to support our mentees and their families."


St. Marys Little Theatre, Inc., $5,000. Theatre Founder Barbara Ryan was beyond thrilled to receive a grant to support the Multigenerational Unification and Celebration project. The goal is to provide a forum for families to spend quality time together and connect across generations, using the performing arts as the backdrop for team building, belonging and working toward a common goal. She notes, "Community theatre can break down barriers to communication that exist offstage as there is so much learning, interaction and joy that comes from building something from nothing, together, onstage."
OREMC Foundation Trustee Sonya Walker remarked, "The focus on family and community that both these organizations seek to advance is such a blessing, and I am pleased to be able to present these awards on behalf of the OREMC Foundation."
The OREMC Foundation is a launchpad for community development supporting education, community health and economic development in the six Georgia and two Florida counties OREMC serves. Currently, OREMC unclaimed capital credits are the primary funding source. The Foundation Trustees meet quarterly to review applications and make grant awards based on funds available.
The next grant application deadline is October 7, 2022. Applications and information are available online at oremc.com/foundation.