A Mission to Serve
May 24th, 2022
Pam Curtis celebrates 30 years of employee advocacy
For Pam Curtis it is not just a job, it is personal.
"My favorite thing to do is serve the employees," Pam says with a hint of emotion in her voice. "As my job evolved and I was able to put myself into my work, I learned what I was best at—being an employee advocate. I like serving other people."
Since joining OREMC nearly 30 years ago, Pam has had the opportunity to work with just about every employee. She started out as a personnel assistant filing insurance claims. Then she moved on to payroll, assisted employees with savings withdrawals, car loans, insurance questions/claims/bills and ran interference regarding long term, short term and workers' compensation claims. In short, she became the "go to girl" for questions and information as the employees trusted her and knew she would work to resolve their issues. And, as she puts it, "the go to girl liked it."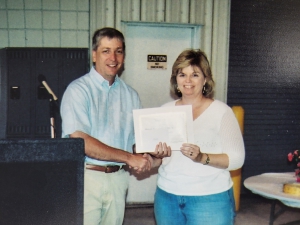 "Most every aspect of my job is personal, confidential information, Pam insists. "It gives me pleasure to know I'm helping someone else and that they know they can depend on me to get it done,"
That determination didn't go unnoticed. In 2015 when OREMC restructured operations, Pam became the Benefits and Compliance administrator working with newly appointed Human Resource Manager David Smith. "Working with David has opened up so many opportunities for me to learn, grow in my position, truly put myself into my work and network with national and statewide colleagues," Pam notes.
The National Rural Electric Cooperative Association (NRECA) annually hosts an Interact Conference for human resource professionals to provide training and updates on benefits. Pam says those conferences have been an invaluable resource and have helped make her job easier as she networked with other cooperatives. Cindy Stewart, now retired from NRECA, was someone Pam met at her very first conference. She became a trusted resource in helping Pam advocate for employees, but also a friend.
It was Cindy who called her up in 2020 when she heard Pam was toying with the idea of retiring, asking, "What are you waiting for?"
Pam says, "I like what I do. I like the social aspect of work and all the daily activity. One phone call can totally change your whole day, and that's ok. When Mike [husband] and I moved to Brantley County in 1989 we didn't know anyone. Until I came to work at OREMC I commuted to Brunswick to work. Coming here, it was a family and we had each other's back. I spent many years in the accounting department and learned from Linda Morgan, Pam Harper, Joyce Strickland and Ronnie Crews. They all helped me along my way here at OREMC. We would sit in the breakroom at lunch, tell stories, laugh and get lost in watching the Young & the Restless."
But times change. People retire. COVID hit. "Mike and I both got COVID. It took me three to four months to truly recover. We also lost both our mothers. It was a hard year."
Pam has settled on May 24, 2022, as her retirement date. She is still getting used to the idea, but as the day creeps closer she is beginning to look ahead.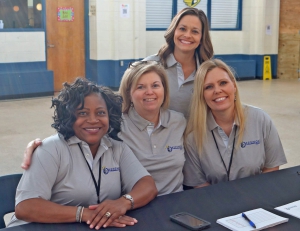 Pam muses, "I will miss the people here at OREMC, but Mike has been retired for three years and I am ready for some freedom in deciding how to spend my time. I want more family time, particularly with my children and grandchildren; more girlfriend time and I want to travel—I love the beach, so I plan to spend more time at the beach."
Jamaica, Niagara Falls, Alaska, Hawai'i are all on her travel wish list, as is hoping the whole family—children and grandchildren—go on vacation together to the Bahamas. In between, Pam wants to learn to paint and plans to take some lessons on how to best capture landscapes, birds and beachscapes. She also wants to do more sewing, is interested in pursuing container gardening and get more involved at her church, First Baptist in Nahunta.
"My connections here are very personal and heartfelt," Pam reaffirms. "I've helped retirees transition to retirement and welcomed many new employees, watching them find their fit just like I did all those years ago. My advice is for them to build relationships, always have each other's back, embrace the co-op family and build on it. Most of all, serve one another. That is our mission."