OREMC Announces 2022 Youth Award Winners
April 27th, 2022
Okefenoke REMC is pleased to announce its 2022 OREMC Scholarship winners and the four students selected as delegates for the OREMC Youth Tour.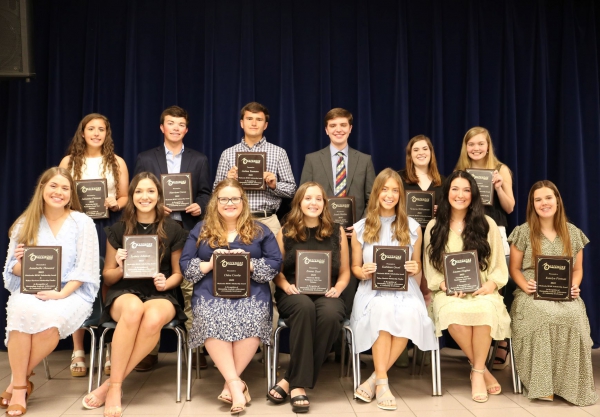 This is the 29th year OREMC has awarded scholarships to students residing in one of the eight counties it serves—Brantley, Camden, Charlton, Glynn, Ware and Wayne counties in Georgia, and Baker and Nassau counties in Florida. Ten scholarships of $2,000 each were awarded to students accepted to a college or technical school and based on their autobiographical sketch, academic achievement, extra-curricular and community service activities, letters of recommendation and financial need. Their awards bring OREMC's total scholarships to $288,000.
This year's winners are: Sydney Johnson, Baker County High School; Joshua Youmans, Brantley County High School; Katelyn Pittman, Brunswick High School; Chloe Crosby, Camden County High School; Annabelle Howard, Charlton County High School; Dylan Olive, Florida Southern College; Madeline McLean and Victoria Williamson, Glynn Academy; Harrison "Fisher" Crews, Pierce County High School; and Kathleen Good, Ware County High School
Walter Harrison Scholarship Finalists and Winners
From the OREMC Scholarship winners, three students are selected as finalists for the Walter Harrison Scholarship, which is funded and awarded by the Georgia Electric Membership Corporation. The scholarship is named in honor of Walter Harrison, a pioneer in the rural electricity movement and a leader at the local, state and national levels in the electric cooperative program. Selected students must be accepted at and planning to attend a college or technical school in Georgia. OREMC selected Annabelle Howard, Madeline McLean and Kathleen Good as finalists. McLean and Good were two of the 14 winners selected to receive a 2022 Walter Harrison Scholarship.
Four Delegates Selected for the OREMC Youth Tour
OREMC has selected four students as 2022 Youth Tour delegates. They will join delegates from Georgia's 38 other electric membership cooperatives for an all-expenses paid trip to Washington, D.C., in June for the Youth Tour Leadership Experience. The trip will begin with teambuilding and a visit to the Little White House in Warm Springs —birthplace of America's rural electric cooperatives—before heading to Washington where they will meet with elected officials and be immersed in monuments, museums, memorials and more.
OREMC's Youth Tour delegates for 2022 are Emma Dyal and Lizann Hughes, Pierce County High School; Julianna Pittman, Brantley County High School; and Joash Wollitz, West Nassau High School.