Enhancing OREMC's System Capacity and Security
March 1st, 2022
Two years ago, just as the pandemic was starting to set in, the March/April 2020 issue of our newsletter came out. The cover story was Keeping the Lights On: System Integrity, Capacity and Reliability. We talked about simultaneous maintenance and improvement projects focused on system hardening, reconductoring, multi-phasing and sectionalizing of lines with enhanced distribution automation. Little did we know at the time, how significant those efforts were in ensuring the functionality of critical infrastructure as the nation shut down, dining rooms became offices, kitchen counters became classrooms and being at home 24/7 became the norm.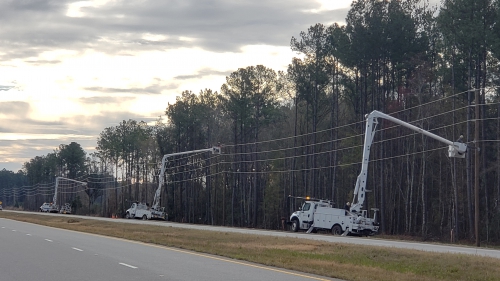 Since then, the pandemic has amplified the importance of our nationwide power grid. It has also revealed the expanded role electricity plays in our new normal; as well as the call for increased capacity with the rise in demand from electric vehicles—from personal to over-the-road transport—due to the focus on renewable energy and reducing carbon emissions.
Recently national media has called into question the security and reliability of the nation's electrical system. Extreme weather events intensifies those concerns as restoration takes time and is a manual process in a world where we have come to expect instantaneous results and overnight delivery.
So what does this all mean for OREMC? First and foremost, the work we were undertaking two years ago has continued and expanded to new projects as our consumer-member numbers are growing.
Recent completion of the Nahunta substation capacity increase and rebuild project now provides additional distribution support and system redundancy in the northern area. A new dedicated circuit was also added to serve the Brantley County Industrial Park.
As a continuation of the recent Nahunta substation rebuild, a new 10-mile 115kV transmission line will soon be under construction to network redundancy between the Hoboken and Nahunta substations.
A new three-phase tie-line is nearing completion along HWY 82 in Georgia connecting our Waynesville and Brookman substations. This not only enhances reliability but also increases load capacity as new construction of homes and housing developments in our service area are experiencing significant growth.
Along U.S. 1 in Florida, a five-mile section of line is being relocated and rebuilt so it is more accessible for maintenance, less prone to right of way power disturbances and enables increased load capacity.
PLUG Power is building a green hydrogen production plant in Camden County. Once it comes online later this year it will become our largest industrial load. In order to provide them service that meets their projected power needs long-term, we have built a new 25 kV feeder from our Hi-Hat substation and will have constructed a new 115 kV substation exclusively for the new PLUG plant.
A capacity increase and a complete rebuild of the existing Hi Hat substation is being planned that will mimic the project recently completed at our Nahunta substation. The Hi Hat project will enable us to better serve a high growth area along Laurel Island Parkway by feeding from multiple substations.
In addition to the Hi Hat substation expansion, a three-phase distribution upgrade project will soon be under construction along Old Still Road near the Kingsland office. This project is designed to provide improved capacity and service to the nearby industrial park as well as create an alternate tie line between the Harriet's Bluff Circuit and Hi Hat substation
These projects all address capacity and reliability needs, but what of system integrity? Much is also being talked about in the media about cybersecurity and threats to the electrical grid. At the national level, the industry—including electric cooperatives—are working together with government partners to strengthen the security of the electric grid. This requires vigilance, innovation and information sharing to stay ahead of the evolving threats.
At OREMC specifically, our cybersecurity efforts involve continuous real-time monitoring of our communication and data systems by our Information Technology Department. Enhanced security and accessibility measures are in place co-op-wide, and employees have undergone cybersecurity training to understand the threats, how to spot them and timely reporting of suspicious texts and emails.
In short, it takes all of us at all levels to ensure the delivery of safe, reliable power. Technology is rapidly driving our increased dependency on electricity; enabling OREMC's ability to more quickly identify, respond and restore power disruptions; but it is also requiring enhanced vigilance to ensure system security and resilience.
Then and now, keeping the lights on is the mission. As our world has changed over these last two years, we understand our role in maintaining system integrity is paramount. All of us at OREMC take our jobs as first responders on the front lines of critical infrastructure to heart as we power your life every day.