OREMC Quilt Raffle Benefits Pinky Promise Foundation
March 7th, 2022
Congratulations to Marcele Gillum, winner of the handmade, queen-sized quilt raffled off by Okefenoke REMC, raising $1,571.91 for the Pinky Promise Foundation in Callahan, Florida.
Kathy Maley, a volunteer at Pinky Promise, purchased and gifted the ticket to her friend Gillum, who was recently diagnosed with breast cancer and about to begin radiation treatments. Maley, Gillum and Linda Shiver are part of a foursome (the fourth lives near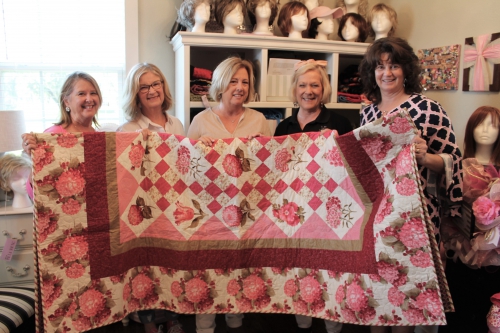 Ashville, North Carolina) that have been friends since fifth grade and plan regular girls' trips together. "These are my girls," Gillum enthused as she was presented with the quilt and expressed thanks to her friends who were there to support her.
Maley was beyond thrilled her friend's ticket was drawn from the more than 300 purchased during the month of February from OREMC offices, Pinky Promise Founder Sybil Purvis and the Westside Journal. OREMC received the quilt as a donation from Joanne Pooler, who took up quilting over 30 years ago, and very much enjoys making and gifting her works of art to hospitals for babies, cancer survivors and veterans.
"This quilt was not the first item Joanne had donated to OREMC," explains OREMC Member Communications/Marketing Coordinator Michele Hutchins, CCC, "but it was such a significant gift I thought it needed to benefit and showcase just the right cause. Pinky Promise Foundation seemed the perfect fit as a cancer resource center for women. All services and items are offered free of charge and the boutique is staffed by volunteers serving our local communities. Its mission dovetails nicely with OREMC's founding principle of concern for the community."
Pinky Promise Foundation is located on U.S. HWY 301 across the street from Callahan Elementary School. It is open Tuesday and Thursday from 10 a.m. – 2 p.m. For more information visit online at pinkypromisefoundation.org or call 904-626-2855.
Pictured (l-r): Kathy Maley, volunteer, Pinky Promise; Sybil Purvis, founder, Pinky Promise; Marcele Gillum, quilt winner; Linda Shiver, friend; and Michele Hutchins, OREMC Member Communications/Marketing Coordinator.