Quilt Raffle to Benefit Pinky Promise Foundation
February 14th, 2022
Okefenoke REMC is holding a quilt raffle through the month of February. All proceeds from the raffle will benefit the Pinky Promise Foundation in Callahan, Florida, a cancer resource center for women.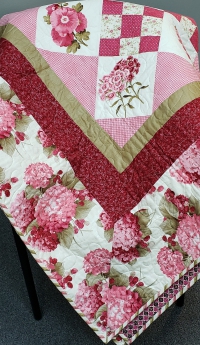 Raffle tickets are $5 each the queen-size quilt featuring shades of pink with white and moss green accents. Tickets are available at each of OREMC's offices in Nahunta, Kingsland and Hilliard, Florida, as well as Westside Journal and Pinky Promise Foundation, housed in Harper Rose Cottage, both in Callahan. The quilt was handmade and donated by Joanne Pooler, a friend of OREMC. Winner will be drawn on February 28.
"Joanne approached me about donating some of her handmade quilted items for our raffle that we hold in conjunction with our golf tournament each year, benefiting the Southeast Cancer Unit, Inc.," explains Michele Hutchins, OREMC Member Communication and Marketing Coordinator. "Quilting is something she enjoys doing and she saw the tournament benefiting a good cause and donated a couple of wall hangings and a table runner. A few weeks later she shocked me with the gift of the queen-size quilt, presenting us with the opportunity to support cancer care in another part of our service area."
The Pinky Promise Foundation was founded in 2015 by Sybil Purvis to offer services to women who have been diagnosed with cancer and be a resource for love and support during their time of need. The boutique located in Harper Rose Cottage features wigs, chemo beanies, chemo gift bags, sleep caps, cancer resource books and literature, scarves, head coverings and so much more. All services are offered free of charge and staffed by volunteers. For more information visit pinkypromisefoundation.org or call 904-626-2855.