Over and Out at OREMC
February 2nd, 2022
If you call Okefenoke REMC, her voice is the first one you hear helping guide you through the prompts in order to connect you with the person/department you are seeking. If you are an OREMC employee, one of your first encounters with Linda Vaughn is likely be in the kitchen where she has often been found cooking up mass quantities of food to feed an army of linemen during a major storm, a holiday meal fit for royalty or a big batch of brownies just because.
While not officially part of her job, they get added in with the other balls in the air she juggles on a day-to-day basis as OREMC's collection and meter dispatcher. Working with the meter technicians out in the field, Linda orchestrates the daily rundown of meter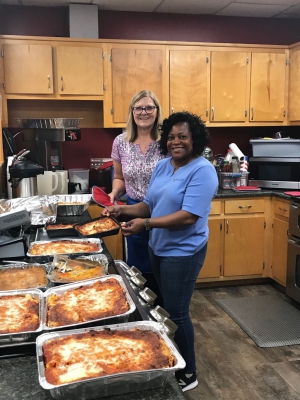 connections, disconnections, collections, inspections, tampering and alerts. She also is the connection between assistance agencies and member accounts, reconciling payments with the appropriate account to be credited, and following up on returned checks.
"There is a lot of multitasking going on," chuckles Linda. "I have a lot of balls in the air at once and often have to switch them around depending on a call that comes in or a request over the radio from one of the guys in the field. There is a lot of daily repetition, but then you get one of the situations that arises that has to be investigated."
She continues, "Each day can bring new challenges and each situation is a puzzle to be pieced together. Good working relationships with the meter techs, customer service, construction and the member service representatives is what helps make sure it all comes together, and that we achieve our main goal of confirming the correct meter is at the correct location and working properly."
However, on 2-2-22 Linda will sign off one final time and pass the radio to her successor. After nearly 21 years of service Linda is retiring so she can give her full attention to being a full-time wife, mother, grandmother, sister, mother-in-law, daughter and friend.
"I have always had to divide my time between work and all the other parts of my life," Linda explains. "I have been blessed to have this job I love, but never enough time to be with the ones I love. I will be able to fully commit to, and enjoy being more fully present in my family's lives. This also includes my church family and my HOG family (Harley-Davidson). Did I mention I was a four-time winner of the Harley-Davidson Chili Cookoff," Linda asks with a twinkle in her eye.
While she is looking forward to more family time, she will always cherish memories of her OREMC family. Linda originally hired on as a customer service representative working the extended hour position from 10 a.m. to 7 p.m.
Linda recalls, "I had left my job at Brantley County Telephone when I received a call from Ronnie Crews asking if I was interested in an open CSR position. I knew Mark and John (Middleton) as I went to school with them but was shocked to get a call because it was always like someone had to die before there would be an opening at the co-op. OREMC was the place to work."
As she runs down a list of about a dozen names, Linda talks fondly of the respect, trust and acceptance the has existed among her work family over the years. "We have been a very close group and I'll always remember the kindness, laugher, joy and excitement we shared with one another. And when there was sadness, we were sad together. But we had a lot of fun too, what with our cancer walk fundraisers and parade floats including the Grinch Mobile and Babes in Toyland."
Then there is the food. Food and family go hand in hand at OREMC, it is part of the culture. Whether she is cooking just because it seems like a good day to have soup and biscuits, sausage and cheese toast, banana pudding or loaded brownies topped with chocolate frosting, making sure here is enough for everyone has never been a problem. If she is cooking to feed the crews due to outages and major storm damage, Linda kicks it up another notch.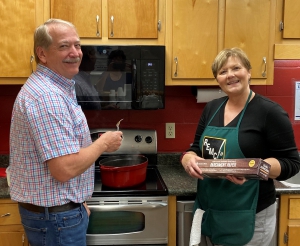 "I can't put the lights on, but I will feed you to keep you going so you can put the lights on," Linda insists. "The storms all run together, and yes they are exhausting, but everyone coming together, and the camaraderie made for good times. I would sleep here so I could get the grits going by 3 a.m. Mark Middleton and I spent countless hours developing menus, shopping lists and figuring out servings per batch. Those shopping trips in advance of a storm were epic."
It was the kind of energy Linda thrives on—giving of herself, helping others and being part of the community. While she will be giving of her time and talent in other ways going forward, a legacy of coming together and working together is what she hopes to leave behind.
"Lift each other up, give your all, be counted on and take pride in your work . . .that's what mattes most at OREMC," says Linda as she shares her final thoughts. "You are working for our members. You are here because of them. Make a difference not just in your own life, but in the lives of the people you work with. At OREMC you are never alone, and someone will always be there to lend you a helping hand."