OREMC Kingdom Care Donation Helps Expand Access to Healthcare
February 24th, 2022
Okefenoke REMC Board Directors Jimmy Woodard and Craig Morgan were pleased to present a $2,500 donation to Kingdom Care, Inc., to assist their operations in providing healthcare to the working uninsured. Case Manager Lisa Mathis, APRN, and Dr. George Thomas gratefully accepted the donation, noting it would help as they ramp up services to new patients now that COVID infection rates were on the decline.
"Every penny goes to meeting the needs of our patients," noted Dr. Thomas. "All of our nurses, doctors and specialists are volunteers . . .they do not get paid for the care they provide."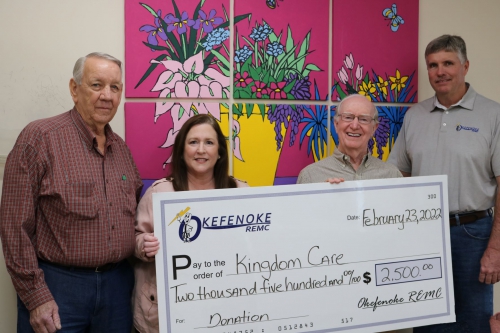 Mathis said COVID did pose some challenges over the past couple of years as they had to shift operations to protect their volunteer providers. While they maintained their existing patient load throughout the pandemic—about half of their annual 3,600 patient visit capacity—it is only recently the clinic has begun to accept new patients again.
"It is gratifying to be able to see patients in-person again," stated Mathis as she ran down some of the care specialties that have been added including orthopedics, surgical and neurological. They have also welcomed a new pharmacist overseeing the pharmaceutical assistance program. She added, "It is donations like this that keep us going and able to expand services. We don't receive any state or federal funding."
OREMC Manager of Member Services Dewayne Johns explained that the funds donated do not affect OREMC member bills as all monies are from unclaimed capital credits, which can be used to support community needs, economic development, education, healthcare and other qualified organizations. "Supporting and giving back to our communities is a founding principle of our electric cooperative and donations such as this demonstrate that principle in action."
Kingdom Care, Inc., assists patients who are income qualified and without health insurance living in Atkinson, Bacon, Brantley, Charlton, Clinch, Pierce, Ware and Wayne counties. Patients are seen by appointment only. For more information visit www.kingdomcare.info or call 912-287-4434