OREMC Accepting Applications for National Washington Youth Tour
February 4th, 2022
OREMC is accepting applications from high school juniors attending school in the OREMC service area—Brantley, Camden, Charlton, Glynn, Ware and Wayne counties in Georgia, and Baker and Nassau counties in Florida—to compete for an all-expenses-paid trip on the 2022 Washington Youth Tour. This inspiring, week-long leadership trip offers participants the opportunity to experience U.S government and U.S. history first-hand while having fun, making new friends, and developing leadership skills.
Four students will be chosen as delegates sponsored by OREMC and join teens from other electric membership cooperatives (EMCs) across Georgia to represent the state during the 2022 Washington Youth Tour to be held June 16-23. Applications can be found online at oremc.com/youth-tour and all applications must be received by March 3.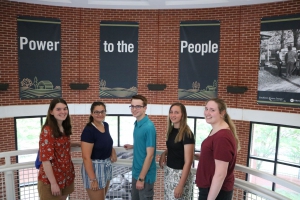 The fast-paced, high-energy program is designed to give students a taste of democracy in action, expose them to the nation's rich history through visits to national monuments and museums, and encourage students to become politically aware citizens.
As 2021 OREMC Delegate Jesse Harrell noted, "It was an immersive opportunity to learn about new places, new people, and . . .even about yourself."
That sentiment, expressed by many former delegates, underscores the significance of the program – making connections with other high-achieving peers while participating in an unforgettable week-long journey in the nation's capital. This includes meeting with state and national leaders, leadership training, and discussions on important issues with students from other states, all while learning about our nation.
"The Washington Youth Tour was a chance to experience something bigger than myself and make lasting connections with people all across the country," said 2019 OREMC Delegate Mady Kate Bullard.
The tour begins in Georgia where students get to know each other before boarding an airplane and flying to Washington, D.C. where they connect with over 1,000 students from across the country. While plans are still being finalized for 2022, the agenda typically includes items such as cruising down the Potomac River, laying a wreath at the Tomb of the Unknown Soldier in Arlington Cemetery, meeting with Georgia's U.S. senators and representatives, taking photos outside the White House, touring Mount Vernon as well as the Smithsonian and other museums.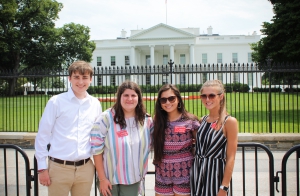 Students will also visit memorials honoring Presidents Franklin Roosevelt, Thomas Jefferson, Abraham Lincoln, and George Washington. They will also visit the Martin Luther King Jr., World War II, Korean and Vietnam Veterans memorials. Plus, they will have the opportunity to see the U.S. Marine Drum and Bugle Corps and the Silent Drill Platoon perform at the Marine Memorial (Iwo Jima statue).
For more information about the Youth Tour visit online at oremc.com/youth-tour or contact OREMC's Youth Tour Coordinator Dewayne Johns at 800-262-5131, ext. 1143 or via email at youthprograms@oremc.com.