OREMC Donation Helps Wayne County High School Science Program Gain STEAM
January 14th, 2022
A weather balloon kit they had been waiting months for arrived the very day Okefenoke REMC presented the Wayne County High School STEAM—science, technology, engineering, arts and mathematics—students a $2,500 check to support their club program and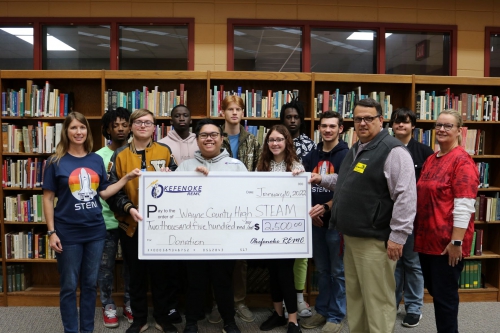 ongoing research.
The goal of their weather balloon experiment is to pick an item to send up on the balloon, hypothesize what the impacts of atmospheric changes will have on that item during the ascent and descent, and test their theory. Determining when to launch said balloon will be based on daily wind and temperature readings the students have been tracking from data recorded by the weather station they installed on campus in November 2021, and are comparing to historical data, to find a day with optimal conditions. As their STEAM Leaders Sponsors Jessica Oliver noted, "We don't want the balloon traveling 150 miles east and coming down in the ocean. Being able to retrieve the balloon is just as important as being able to launch it."
The weather station is this year's STEAM project. Other years have seen a focus on marine biology and robotics. If fact, the STEAM students hope to use some of the money from OREMC to do a behind the scenes tour of Universal Studios in Orlando. As Oliver explains, it gives the students a chance to see the mechanics behind the rides and the systems used to operate them, shedding a whole new light on engineering. More immediately, they want to purchase an additional GPS unit for their weather balloon, so they'll be better able to track it once it is launched.
"The Wayne County STEAM program is a perfect example of why OREMC supports STEM programs—to help students get excited about work they can do if they choose to study science and math," stated OREMC Member Service Representative Dewayne Johns. "It is always rewarding to hear the excitement in their voices and see the commitment to their projects as they demonstrate or tell us about them."
Donations such as this are made possible by unclaimed capital credits. OREMC can redistribute these funds to qualified organizations within the communities the cooperative serves.