A New Light on Life
January 4th, 2022
"The first thing I'm not going to do is get up at 5:30 a.m. and be driving in the dark," exclaims Esther Woods, operations clerk at Okefenoke REMC, as she looks forward to her first days of retirement. Early mornings have been her routine since she first came to work at the OREMC Hillard, Florida, office as a meter reader on March 28, 1994. It was a decision that would shape her future more than she could have ever imagined.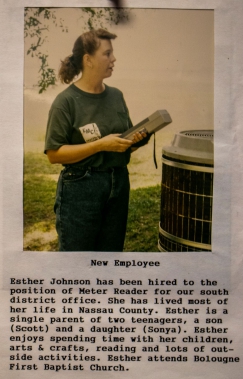 Esther explains, "I was divorced, raising my kids and working at a job that had not given me a cost-of-living pay increase in six years. Things were tight and the cost of insurance was increasing. I got a message from a friend that the OREMC Hilliard office was looking to hire a meter reader. Now you have to remember, I was raised in Callahan and when I was growing up, the REA [OREMC] was some faraway place—the only office was in Nahunta. The district offices in Hilliard and Kingsland were new in 1994. I applied and got called in to interview. There was a room full of people during my interview, but I immediately felt at peace."
She got the job. Back then meters had to be read in person, meaning Esther had to drive from house to house, get out of her vehicle, walk up to the meter and input the reading into her handheld device. Then on June 12, less than three months from the day she started, Esther got the news her son, Scott, had been murdered. She recalls, "God had put me in a place where family was important. The co-op embraced me and my family. I'll never forget the day of the funeral, I walked out of the church and all the OREMC bucket trucks were lined up in honor of Scott."
Soon after, Esther moved from operations to customer service when a new position opened up in the Hilliard office. She remembers how members liked to come to the new office just to meet people, "They could pay their bill in person, ask questions about service and meet people. Before they could only call the Nahunta office where everything was centralized."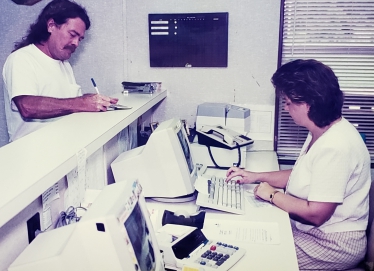 From a new office to the introduction of computers, migration from handheld meter reading to automated and paper map books to online digital mapping of OREMC's entire system, Esther has seen a lot of firsts as OREMC has evolved. Building on her own foundation, Esther moved into the position of operations/staking clerk in 2001 and will end her OREMC career as an operations clerk. As she puts it, she works with builders and new members, managing the workflow from initial inquiry to lights on.
"Technology has changed the whole dynamic of our co-op," Esther says. "With the Partner mapping system anyone can assist a member while looking at the maps online and visualize the service location being discussed. PrePay [when the member manages their account and usage by tracking what they have available in their account] was the very best thing we've done. It has empowered our members to be more responsible, while also for some, unburdening them of undue additional financial hardship. It also streamlines billing and is safer for employees who don't have to go out on collections."
But the best thing about OREMC? "Is the sense of family," Esther insists. "We work together. We respect each other. We are aware of how our work impacts one another. Pam Harper, Danny Thornton, Dottie Thompson . . . they were my mentors who helped me see the whole OREMC picture. And we have come so far in serving our members in terms of reliability, right of way and responsiveness."
Esther signs out one last time and steps forward into retirement on January 4. Although she is a little scared of what her day-to-day might look like, given she has been working since she was 12 years old, she does have a vision: "I want to do crafting and woodworking, maybe some cross-stitch, get a travel trailer, go cross-country and sell at craft shows. I'll see how it goes locally first at the Callahan, Folkston and St. George fairs, but I really do want to travel once Woody [her husband] retires."
Tops on her list is visiting the Grand Canyon and the coast of Maine. She also looks forward to having more time to visit her grandbabies that are scattered from Hillard to Atlanta and Augusta. And she can't forget her grand dog in Franklin, Tennessee. Day-to-to she is interested in volunteering at The Nest and helping the elderly from her church that live alone and "having supper cooked for Woody when he gets home." She is quick to point out this is something that she wants to do for him, not something he is asking of her.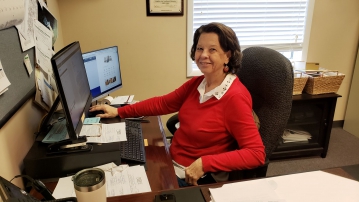 "So much of life has been work and family," muses Esther. "I love my job and I love this co-op—my heart is here—but I have a lot of projects to do, and I can't wait to babysit my three grandbabies in February while their parents go on a cruise."
Wherever she may roam, everyone at OREMC wishes Esther all the best in her retirement.