OREMC Establishes Charitable Foundation
August 10th, 2021
OREMC is pleased to announce the establishment of the Okefenoke Rural Electric Membership Corporation Foundation (Foundation). The Foundation will serve as a launchpad for a community development initiative supporting education, community health and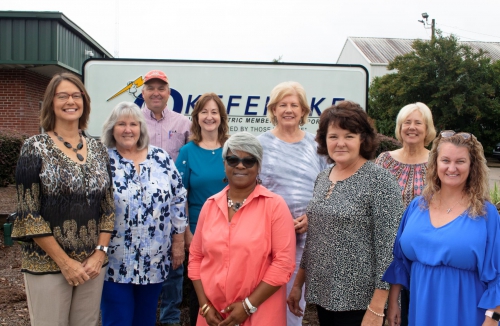 economic development in the six Georgia and two Florida counties the co-op serves.
Qualified organizations are invited to submit grant applications outlining their project plans and related funding requests. A nine-member Foundation Board of Trustees has been established—one member representing each of OREMC's districts—that will review applications and award grants on a quarterly basis. Grant criteria, application and timelines are available on OREMC's website oremc.com/foundation. The Foundation Board of Trustees has set Monday, September 27 as the deadline for the first grant applications to be accepted. Grant awards will be announced in November.
"The idea for the Foundation has been around for several years, as more than 250 other electric cooperatives across the county have established charitable foundations," explains OREMC Member Communication/Marketing Coordinator Michele Hutchins. "Several factors aligned to turn OREMC's vision into reality, provide funding, establish a board of trustees and enable the Foundation to solicit grant applications for the first time in fall 2021."
Initial funding for the Foundation comes from unclaimed capital credits—the portion of investment funds (revenue minus expenses) that are owned by individual consumer-members, retained by the co-op as capital for a period of time before being retired and returned. Unclaimed capital credits have historically funded OREMC's annual scholarship program ($20,000) and charitable contributions to qualified organizations ($50,000). While OREMC will continue with those programs, awarding additional grants, based on funds available, through the Foundation will increase the co-op's reach and engagement within the communities it serves.
OREMC General Manager John Middleton explains, "We have been working toward establishing a charitable foundation to help foster greater economic development, support educational enrichment—academics, athletics and/or the arts—and address community needs. Through the OREMC Foundation we are inviting qualified organizations in our communities the opportunity to tell us about their programs and funding needs, so we can build on our founding principle of concern for the community and make a positive impact."
For more information about the OREMC Foundation please review the guidelines available at oremc.com/foundation. You can also email questions to foundation@oremc.com or call 800-262-5131 ext. 1103.
The OREMC Foundation Board of Trustees are (l-r): President Ruby Ann Sawyer, Carolyn Strickland, Matthew Jordan, Vice President Ramona Jones, Secretary Sonya Walker, Jackie Hayes, Tina Mobley, Rissa Self and Treasurer Shallen Crum.