Lights of Love: 20 Years of the Lewis Light Show
November 18th, 2021
OREMC consumer-members Charles and Wynell Lewis of Hortense, Georgia, had always "decked the halls" of their home with Christmas decorations and outdoor lights. But after their son, Chad, passed away on December 21, 2000, Christmas lights took on a whole new meaning.
"When Chad died, I told Charles we could be sad or we could turn our perspective around and do our Christmas light display in Chad's memory," recalls Wynell. "And so that is what we did."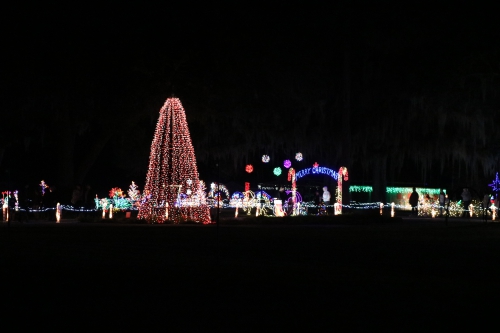 The Lewis Light Show began modestly in 2001 with the lights they usually strung up and adding what they call the 22-foot Mega Tree to the front yard. Every year since Wynell has enhanced the display, and what started in the front yard has grown into a seven-acre lighted, holiday wonderland.
"One of the things we quickly realized is not everyone is having a good or easy time at Christmas, and the lights help to raise their spirits," Wynell says. "For some families, this is their Christmas present to their children . . .this is what they get."
What you get when you walk through the Lewis Light Show is a sense of awe and wonder, whether you are a "kid from one to 92." As you walk up, the whole front yard light display is programed to music. The Lewis' have speakers in the yard, but you can also enjoy from your car by tuning to 90.3 FM on your radio dial.
Continuing down candy cane lane to the light show entrance you walk through the carefully crafted theme sections, as Wynell refers to them: the sweets section, the peppermint factory, winter wonderland, forest animals, presents and packages and then the religious section.
Then it is on to Wynell's pride and joy—the life size Christmas village where you can gaze in wonder while sipping hot chocolate or a slushie. Each carefully crafted cottage in the village is over the top in detail, from the post office, the sweet shop, the bakery, the elves workshop, the Nativity and the smaller elf cottages. Except for the first cottage, which was purchased from a local bank, Wynell has built all the others.
Wynell enthuses, "It is so magical seeing everyone walking and talking around the village. It is like a scene from a Hallmark movie."
As you wind your way through the village, take special note of the painted wood cutouts decorating the side of the barn behind the elf houses—they were painted by Chad and really are what started it all.
When asked if she knew how many lights were in the display, Wynell said if you can count the lights you don't have enough! While she may not know how many lights there are, she does have a spreadsheet of each section and how many amps it is pulling. She knows she has about maxed out the power. Charles chuckles, adding, "I know the co-op is happy with us this time of year."
So, what does it take to put on a light show like this every year? Wynell starts setting up in October, but nods in agreement when Charles says she is working on Christmas all year long—particularly the timing of lights and musical integration. Wynell insists she would put up the lights whether or not anyone came to see them.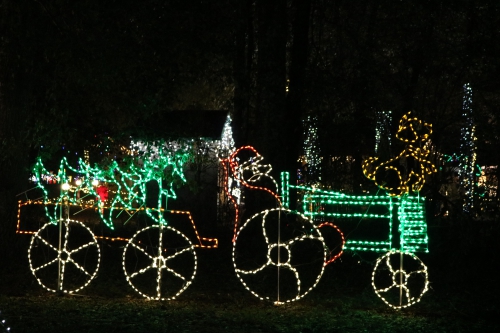 But people do come—by the thousands on weekend nights. Charles says two to three thousand people a night walk through on a Friday, Saturday or Sunday evening. It is down in the hundreds on weeknights. And they come from all over southeast Georgia and Jacksonville, Florida.
If you are looking to raise your spirits this Christmas season and plan to visit the Lewis Light Show, here's what you need to know before you go:
The lights are on every night (weather permitting) beginning on Thanksgiving, November 25, and ending on December 26. Check Facebook if weather is questionable.681 Cumberland Road in Hortense, Georgia.
The gate opens at 6 p.m. The gate CLOSES and lights out 9 p.m. Sunday-Thursday and at 10 p.m. on Friday and Saturday (No admittance one the gate closes. This is a private residence.)
Parking is roadside and based on availability. Cars do back up and you may need to circle around a time or two before finding a parking spot.
Admittance is free, but donations are appreciated.
It is a self-guided walking tour.
Hot chocolate and slushies are available in the village.
And if you haven't seen the video, check it out on our YouTube Channel.