Annual Meeting: A Return to In-Person
August 23rd, 2022
Despite the pandemic still being a backdrop to our daily lives, "living with it" has become norm and the motivation for OREMC to once again return to an in-person annual meeting, with a few adjustments based on lessons learned from our drive-in meetings the past two years.
The 2022 OREMC Annual Meeting will be held on Saturday, September 10, at the Brantley County High School, Highway 82 West, Nahunta.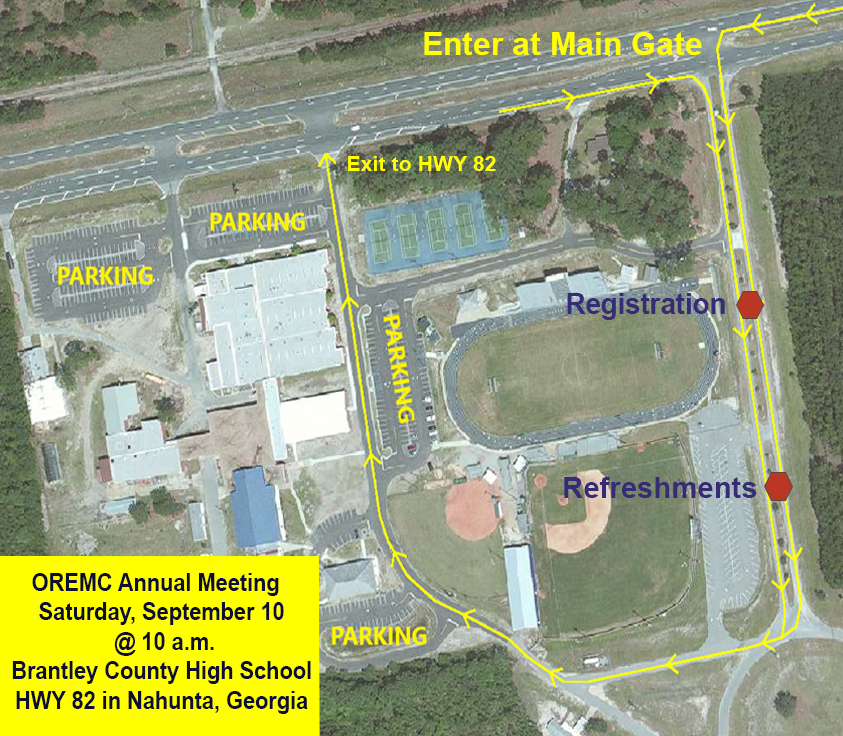 Registration will begin at 8:30 a.m. and will be drive-thru with access through the Middle School gate.
Please bring the preprinted registration card you will receive with your official annual meeting notification letter to register and receive your attendance gift.
Attendance gifts will be presented to members at registration. Please note: Just as there is only one vote per member regardless of how many accounts are in your name, there will also only be one attendance gift per member. As the name suggests, it is a thank you gift presented to those members who choose to attend the Annual Meeting.
Proceed forward to the refreshment stop where you will be offered donuts and choice of water and Coke® products. Additional beverages and coffee will be available at the refreshment counter located just outside the gym in the high school.
You will be directed to follow the road around toward the high school for parking.
Musical entertainment will be provided 8:30 -10 a.m. Activities will be available for the kids throughout the morning.
Official business meeting will start at 10 a.m.
During the business meeting, members will hear reports from OREMC's Board President and General Manager. Elections will be finalized for three members of OREMC's Board of Directors to serve for three-year terms representing: District 2 – Nassau County (Florida), District 6 – Northwest Camden County (Georgia), District 8 – Glynn County (Georgia).
Raffle prizes, superlative prizes and a grand prize will be awarded to those in attendance at the conclusion of the business meeting―you must be present to win.
Please contact us about any special needs or requirements for your participation in the Annual Meeting by calling our office at (800) 262-5131 or emailing us at member.service@oremc.com prior to September 10, or by contacting one of our employees at the meeting.